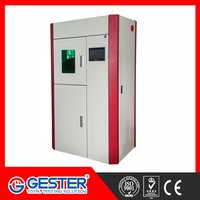 Textile Testing Instruments
Product Description
Under the exemplary leadership and guidance of our expert professionals, we have been able to emerge as a trusted manufacturer and supplier of Textile Testing Instruments. These instruments are guaranteed to meet corresponding standards and completely tested to ensure the highest performance and longer life. We use optimum quality materials and components to manufacture this machine. These are equipped with digital fixed air temperature controller and time recorder to record temperature and time. When a loop is complete, there is a sound prompt. Textile Testing Instruments are ideal for testing color fastness, strength, structural analysis and more for fabrics.
Further Details:

GESTER is leading and outstanding company in manufacturing and supplying a wide range of textile testing equipments. Our textile testing equipment conforms to DIN, GB, AATCC, AS, ASTM, JIS, US CPSC, FZ, ISO, IWS, BS, CAN, IDFB and other standards, making it well received in various countries.
Main Equipment Products:
1. Yarn and Fiber Testing: Wrap Reel Electronic, Twist Tester, Yarn Examining Machine, Yarn and Sliver Evenness Tester, Yarn Count System
Plush Bundle Fiber Strength Tester, Quick Fiber Oil Extractor
2.Fabric and Textile Testing: Martindale Abrasion and Pilling Tester, ICI Pilling and Snagging Tester, Random Tumble Pilling Tester, Flammability Tester, Zipper Fatigue Tester, Downproof Tester, Circular Sample Cutter
3.Textile Strength Testing: Tensile Strength Tester, Electronic Peeling Tester, Snap Button Tester, Elmendorf Tearing Tester, Bursting Strength Tester
4.Colorfastness Testing: Light Fastness Tester, Scorch & Sublimation Tester, Color Matching Cabinets, Crockmeter, Dying Oven
5.Dying and Finishing Testing: Durawash Garment & Printed Durability Tester, High Temperature Dyeing Machine, Laboratory Padder
Laboratory Stenter, Infrared Laboratory Dyeing Machine
Applicable Material
1. Textile fibers: Cotton, linen, silk, terylene, viscose, spandex, chinlon, CVC, fur of sheep/rabbit, etc.
2. Structural fabrics: Woven fabric, knitted fabric, velvet, corduroy, flannel, lace, coated fabric, etc.
3. Garments: Overcoat, trousers, skirt, sweater, T-shirt, down jacket, etc.
4. Home textiles: Towel, quilt, bed linen, bed spread, etc.
5. Decorative textiles: Curtain, wall cloth, table cloth, etc.
6. Others: Eco-textiles
Test Items
1. Physical property: Density, yarn count, gram weight, yarn twist, yarn strength, fabric thickness, fabric structure, loop length, fabric cover, fabric crimple, fabric shrinkage, tensile strength, tearing strength, seam slippage, seam strength, bonding strength, snagging resistance, crease recovery, stiffness, water resistance, leakage resistance, air permeability, water permeability, flammability, bursting strength, pilling resistance, etc.
2. Color fastness: Colorfastness to rubbing, soap washing, chlorine water bleaching, non-chlorine bleaching, dry cleaning, perspiration, water, light, saliva, seawater, etc.
3. Dimensional stability: Dimensional stability of hand washing, machine washing, dry cleaning, steaming, etc.
4. Appearance stability: Appearance stability after hand washing, machine washing, dry cleaning, etc.
5. Chemical analysis: PH value, formaldehyde content, lead content, Azo dye content, heavy metal content, water content, off-flavor, acid stain, alkali stain, etc,
6. Composition: Cotton, linen, fur, silk, viscope, chinlon, terylene, spandex, down, etc.
Trade Information
xiamen port OR DHL

50 sets per month Per Day
15 days Days

Each set protected with resin fiber and PP film, then put into Strong wooden case with operation manual and video inside.
All India

ISO 9001, UKAS, CE Certifications